Porch life



A quick note to new subscribers: Welcome! Quite a few of you found Keynotes via my piece on newsletters for Vanity Fair. Here's how this works: I typically open with a short meditation on something personal that's been rattling around in my brain. Then, if applicable, I'll link to things I've published/worked on in the past month. The remainder of Keynotes consists of links to stories I've read online in the past few weeks accompanied by short blurbs about why you should read them, too. In general, they're things I'd send to my friends along with some iteration of the eyeball emoji. It's the internet filtered through my personal sensibility. And I hope you dig it.
I'm writing to you from a porch. This is rare for me; not a single person I know in New York has a porch. In Brooklyn the brownstones have stoops. In Manhattan the restaurants have patios. We have backyards sometimes, with varying degrees of actual grass, and parks always, with plenty of grass, though it tends to be on the sparse side, the kind of middle-aged dude whose hair my barber secretly dreads cutting. The nice hotels have rooftop pool decks. But unless you're a property owner in Ditmas Park, say, there's not a porch in sight.
This porch, the one I'm sitting on now, means business. Floor-to-ceiling screens are strung between white wooden arches. It has a double swinging door, slate gray tiling, and a marble coffee table covered in artfully chosen plants and cut hydrangeas. There's a wicker sofa comfy enough to sleep on, a dining set that seats eight, two silver ceiling fans that dial up to 11. It's straight out of the pages of Pottery Barn, the kind of porch that's diametrically opposed to city living—the kind that might feel out of place in the northeast altogether. Those porches are wooden and creak. They know things. This porch is a blank slate. There's nothing heavy about it, nothing stored up in planks. It demands nothing but bliss.
I'm soaking it in like I soak in time with my family, allowing myself to be swept up in comfort. To me, that's what the south, where I was raised, or the midwest, where my family is from, represents: an ease that's absent from city life. A few days in which I ride shotgun in my mom's car with my feet on the dash like a teenage douchebag. But little pinpricks snap me out of my reverie. At the Missouri Historical Society's exhibit on Pulitzer Prize-winning photographs, including photos from the 2014 demonstrations in Ferguson, Missouri, someone left a written comment that read, in part: "It was sad that Michael Brown was shot but had he respected the law, as I was brought up to, it wouldn't have happened." I fight a knee-jerk instinct to disdain the midwest for it. It's one note out of dozens. But it stings.

There's something I want to say here about porches and notes left in museums—something about the tension inherent in existing strung between two worlds, one so coated in nostalgia that it's almost impossible to see clearly, the other so jaded that it's almost impossible to be at peace. Something about roots, and what we choose to do with them. Something about the false sense of security that comes from sitting screened in, fans whirring, listening to the dog splash around in the pool.
My Stuff
July was unusually busy for me. I published the aforementioned piece about email newsletters, which let me interview some of my favorite writers, and link out to some of my favorite people to read. I wrote a fun little item on Megan Rapinoe's political future. I moderated a panel for Vanity Fair, in partnership with Dell, about sustainability and women-led initiatives in the startup industry. And I finally made an Instagram account for my angsty poetry, if you're into that sort of thing.

Funny Stuff

What It Means to Do It to Em - New York magazine - I'd seen oblique references to this meme before reading this article, but nothing that could've prepared me for its sheer glory. Behold.
Room Temperatures, In Order of Moral Laxity - The Shatner Chatner - Once in a while I'll get a little insider-y and link to other email newsletters. Daniel Mallory Ortberg's is one of my favorites, even though I disagree that a 70-degree room is "scarcely bearable." (I'm always cold.)

Astrology Is Fake But Pisceans Love Weed - The Hairpin - Yes, this was published literal years ago. But every time I revisit it I'm glad I did. (Also, I am a Pisces.)
Thought-Provoking Stuff
The Dominance of the White Male Critic - The New York Times - "At a time when inequality and white supremacy are soaring...the conversation about our collective imagination has the same blind spots as our political discourse."
One Word: Bitch - The Paris Review - On who uses "bitch," and why, and how those factors instantly change its meaning.
The Most Gullible Man In Cambridge - The Cut - A story that's somehow at the crossroads of #MeToo and the summer of scam.
I Started a Successful Food Company. But 25, I Had to Quit - Healthyish - A compelling essay on burnout, and self care, and the different ways depression can manifest.
And a short story: "This Is Pleasure" by Mary Gaitskill. I really didn't know what to think of this when I finished reading it. Thoughts? Feelings? Reply and let's discuss.
Odds and Ends
The Mueller report, but fun. Just buy a fake plant already. Literally split me open. Who are all these white guys running for president, anyway?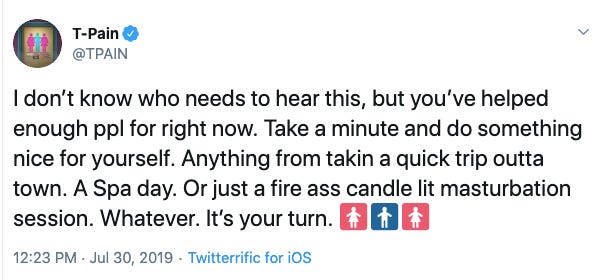 T-Pain is my new therapist.


This newsletter is not emotionally ready for August.
Subscribe
here
to freeze time.
Visit me at
clairelandsbaum.com
.
Tweet me at
@landsbaumshell
.