Reading with strangers


The rain came like most things do: slowly, and then all at once. I was walking through Williamsburg on my way to meet a friend at her ceramics studio. (For the record, her ceramics rock.) And I'd almost made it when the true downpour began: the kind of summer storm that blows trash bins down the street and sets off car alarms. Of course I'd forgotten an umbrella. Of course I had no cell service. So when I passed a building with an arched marble awning overhanging a wide stone staircase about 30 seconds after the sky split open, I ducked beneath it and climbed the stairs to perch just outside the front door. With nothing to do but wait for the rain to stop, and 15 minutes to go until I could be considered late, I cracked my book. It was Lot by Bryan Washington, and I was almost finished.
Less than a minute later I had company. A girl with a bowl cut followed me under the awning and took the step beneath mine. We made eye contact and she said, with a heavy French accent, "I think I'll do the same." She pulled out her book, we smiled at each other, and we both bowed our heads as the storm continued to rage. Then a delivery person showed up, skidding to a stop on a moped that he tied up on the sidewalk. He hustled to join us, paper bags soaked through, soccer jersey sticking to his arms. He took the step a few levels down.
Outside looked like a car wash. It looked like Hurricane Maria raging against the floor-to-ceiling windows of my dad's imitation modernist in Texas. It looked like any second the cars parked along the street would drift upward and be washed away. The three of us were silent, alternately turning pages and staring out at the storm. It wasn't an awkward silence, or an awkward setting, despite the fact that none of us had much choice but to sit there. It was the comfortable silence of a lazy Sunday morning: someone curled into the couch doing the crossword, someone else whisking eggs in the kitchen. Proximate, but solitary. "The basis of the capacity to be alone," writes psychoanalyst D.W. Winnicott, "is the experience of being alone in the presence of someone."
There we were alone together, damp but content, cut off from the outside world and frozen in time. I'm currently reading a book about the apocalypse—Station Eleven by Emily St. John Mandel—that centers on the same themes: how people coexist, or don't. How we're grounded by community. How the written word binds us. How we will return to each other, again and again. When I left first, sensing a lull in the storm, the other two smiled and waved goodbye.
My Stuff

Months and months ago I submitted a short piece to Tart Magazine, a literary magazine started by Chloe Bryan and Alicia Tan. Now the magazine is officially in print (and also happens to be extremely attractive). An online shop is in the works, but for now if you want a copy you can email tartmgzn@gmail.com.
Celebrity stuff

Kristen Stewart Plays It Cool - Vanity Fair - Yes this is a little navel-gazing, but I loved this profile of KStew, my forever love, in our September issue. Durga Chew-Bose captures her so well, including with details like "Stewart navigates narrow roads and swerving drivers as if she were playing a video game." If that's not some extremely Aires shit, I don't know what is.
The Eternal Sunshine of Harry Styles - Rolling Stone - Two of my favorite celebrities were profiled in a single month, which I have chosen to interpret as the Universe rewarding me. This Harry Styles piece is so delightful it defies description. Line that made me laugh out loud: "A moment of silence is held for the corduroy flares."
How Astrologer Susan Miller Gets It Done - The Cut - Does Susan Miller count as a celebrity if you're not obsessed with astrology? Yes? Great. "I don't want to use my hands for email" is an incredible policy that I respect.
And a bonus: photos of Toni Morrison at work and at play.
Essay Stuff
Queering Barbie - BuzzFeed - Kristen Arnett (she of Mostly Dead Things fame, who I interviewed back in May) wrote about growing up as a queer kid playing with Barbies, and it's so good it makes me want to rip my heart out and eat it. (Sorry.)
On Breakups - The Paris Review - Speaking of heart eating! Hanif Abdurraqib's monthly column has fast become one of my favorites, and this edition—on heartbreak and a Haim music video—is no exception.
Things to Do in New York City - Griefbacon - As I've preached all over the Internet, some of the best writing I read comes from email newsletters. This edition of Helena Fitzgerald's Griefbacon floored me. It is very long and very good and worth reading to the very end.

I Hate Making Small Decisions - Ask Molly - And again: a dispatch from Heather Havrilesky's newsletter that I found particularly relatable. Specifically: "Our world is very dark and very sad at the moment. We each have to find our own way toward the light."
Bonus Round
Just a bat eating a watermelon, happier than I've ever been about anything in my entire life. How to quit waiting for the other shoe to drop (thanks for sending, mom!). Live look at Chuck Closterman's nightstand. That's it, that's the whole bonus round.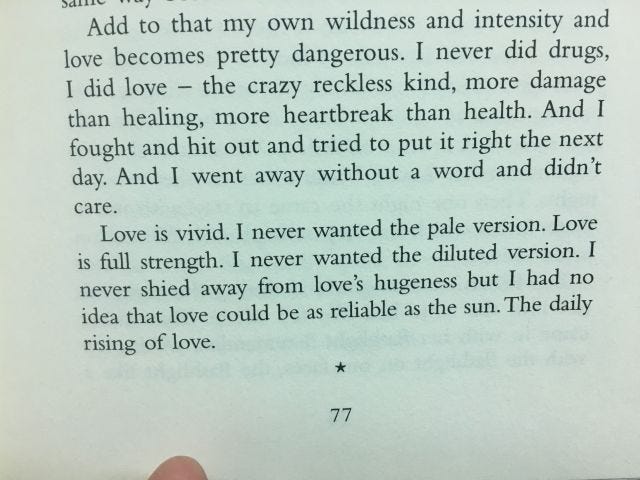 This quote from Jeanette Winterson's Why Be Happy When You Could Be Normal? really got me. What have you read lately that's moved you?


This newsletter loves reading with strangers.
Subscribe
here
to join in.
Visit me at
clairelandsbaum.com
.
Tweet me at
@landsbaumshell
.