My scammer texted me, "Good morning." It was a Friday, and I was home waiting for the movers to pick up the couch I'd sold on Craigslist. Except, of course, there were no movers, the check bounced, and my money disappeared. That's how it works.
The week before, I'd purchased a different couch on Craigslist—one my cat wouldn't destroy. Their apartment was less than a dozen blocks away and when I arrived, shaking the rain off my umbrella and pausing Aly & AJ, they were cooking Saturday breakfast. I loved them right away and their cat, Miles Davis, who sniffed me maybe a time and a half before head-butting my hand for ear scratches. The husband had a motorcycle and promised to answer my questions about riding. The wife tutored me on couch upkeep (it was made in the 60s and could use some "tongue" oil which turned out to be "tung," who knew?). When I came back for it two days later, they had carried it downstairs and bagged the seat cushions. She helped me load it into the Uber XL. The next day, I sent her a photo of my cat curled on her former couch. She heart reacted.
Craigslist people, I concluded, rocked. So the veritable avalanche of red flags from my couch buyer failed to tip me off until I woke up from a nasty dream at 6 AM on Friday and Googled "Craigslist check scam." At that point, it was way too late. Which made the "Good morning" text weirder. My scammer had the money and knew no "movers" were showing up. Sure, they didn't know that I knew—I hadn't yet sent the desperate text asking for my money back. But wouldn't continuing the ploy for appearances' sake be riskier than cutting and running?
There are so many possibilities as to the person on the other end of the line: a soulless psychopath who stole from me and has my home address, and couldn't resist gloating. A relative idiot who doesn't know when to quit. Someone who falls somewhere in between. The worst part, to me, is their anonymity—my inability to pull up their face, to look for the giveaways in the set of the eyes, to think I should've seen it coming. Of course I should've. But I've never been great at flying blind.
My stuff
Technically this was meant to go out at the beginning of December, but then I got scammed, and I've been juggling plenty besides. So here's an interview I did with Kim Petras at the end of November for Vanity Fair.
I'm also going to try something new and include two pieces I edited that I think turned out particularly well. The first is Diana Falzone's scoop that Fox Nation's Britt McHenry is suing the network over sexual harassment. The second is Alisyn Camerota's piece about working under the thumb of Roger Ailes at Fox. Yes, we're Fox heavy these days; blame Bombshell.
Funny stuff
Is There a Sexy or At Least Normal Way to Take Off Pants? - The Cut - The headline is good, but it's the illustrations that killed me.
AITA for Kissing the Homies Goodnight? - Reddit - And this isn't actually an article (apparently I don't read funny things much anymore?) but it had me in literal tears at my desk. "I kissed the homies, as is custom…"
Essay stuff
Why I Haven't Gone Back to SCOTUS Since Kavanaugh - Slate - Dahlia Litwick is one of journalism's premiere court reporters. This essay encapsulates a lot of what I feel about Systems; it gutted me.
Influencer Alyssa Coscarelli Opens Up About Anxiety and Skin Picking - Teen Vogue - The title isn't necessarily appealing, but I've followed Alyssa on Instagram for a while, and I was surprised to read that she struggles with the same thing I do: anxious skin picking that can leave the face red, blotchy, and bloody. Tavi Gevinson wrote about the same thing in a recent essay for The Cut. I'm glad to see a dialogue opening up around this.
People In Three Continents Share Their Idea of Escape - California Sunday - I love California Sunday, which is always beautiful. This photo essay in particular made me feel connected to every other human in it.
Luminous - Ask Molly - Heather Havrilesky has been doing a series of short essays through her newsletter, Ask Molly, that are spectacular. This one in particular is about letting the glorious leech into the mundane. I also loved Desire, about quelching shame; Ground to Cloud; and, maybe most of all, Illumination.
Celebrity stuff
What Can Robert Pattinson Do to Keep You Guessing? - The New York Times Magazine - "I'm old and boring. And I only have abs, like, two weeks a year." This man!
Doing Diplo - The Cut - "I just persevered, man. Persevere in your ugliness. It will just eventually become beautiful, I think." Also this man!
Adam Driver, the Original Man - The New Yorker - I am sensing a 'large celebrity man' trend here, but this Adam Driver profile is wonderful, too. Before reading it I didn't know much about his past, which is fascinating.
Did Emma Sulkowicz Get Redpilled? - The Cut - I'll generously call Emma Sulkowicz a minor celebrity so I can include this piece here because I think it's completely fascinating, not to mention an excellent real-time example of how easy it is to lose track of everything you thought you stood for if the horizon gets blurry enough.
Poetry stuff
Reasons to Survive November by Tony Hoagland
The Octopus by Kay Ryan
Suggested Donation by Heather Christie
Bonus round
Don't forget to drink water. New Jersey has a Twitter account and it's lit. A 2-year-old's daily affirmation. A barn owl baby's first thunder. A gay car commercial to make you ball like an infant. When is Christmas 2019? Soon!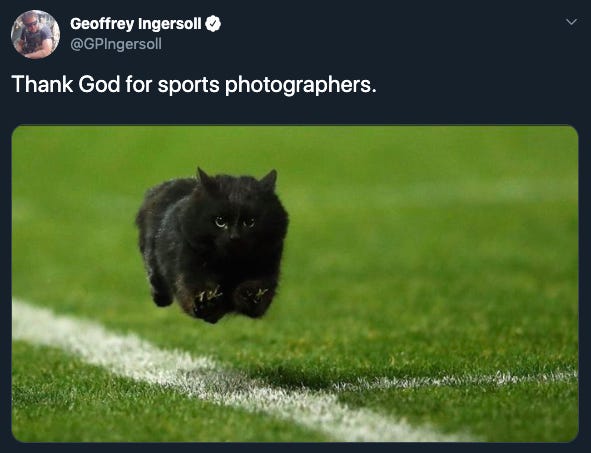 Live shot of me racing to the end of 2019. And if you missed the cat on the soccer pitch, here's all you need to know.

This newsletter thinks the real scam is capitalism.
Subscribe here to burn the hamster wheel.

Visit me at clairelandsbaum.com.
Tweet me at @landsbaumshell.