Two links about turtlenecks, and some other stuff.

---
Welcome, beautiful subscribers, to the first issue (Can something be an 'issue' if it's a newsletter? Unclear.) of Keynotes. I've been bookmarking like a madwoman this month, so here's the link vomit you've been so eagerly anticipating. (Categories are subject to change, but probably won't.)
---

My Stuff

How 9 Beautiful Stars Got Hideous to Play Regular-Looking People - Gwyneth Paltrow ate fried chicken, and Javier Bardem got a bad haircut.

Argentine President Says Prosecutor's Suspicious Death Was No Suicide - Delayed gratification. After living in Buenos Aires for three months and witnessing it firsthand, I got to tell everyone about how crazy Cristina is.

I also made some New Year's resolutions and reviewed "The Magicians" by Lev Grossman.

---

Funny Stuff

Let's Get Drinks - The New Yorker - "I am, like, the Spanish Civil War riding in a subway car with broken A.C., seated between Kim Jong-un and the phrase 'said no one ever.'"

How to Tell If You Are In a High Fantasy Novel - The Toast - "There is one body of water. It is called the Sea. The Great Sea, if you are feeling fancy."

When Don't Turtlenecks Work? - Man Repeller - Answer: Never.

---

Melancholy Stuff

The Skinny on Mary - The Manifest-Station - On the complex relationship between women and food.

Since Living Alone - The Hairpin - An exercise in self-realization.

The Winter of My Discontent - The Toast - Seasonal depression is a real, devastating thing. Bonus points for the Shakespeare reference.

---

Great Interviews

Tavi Givenson - The Coveteur - Fire to the flames of my Tavi obsession. Bonus points for the gorgeous photography and for printing things I didn't already know about her.

Mallory Ortberg - Jenna Leigh Evans - Mallory (editor of The Toast) spills on practical stuff like her income and writing process.

Björk - Pitchfork - Björk talks about her new album, "Vulnicura." She cries, I cry, we all cry.

---

Cerebral Stuff

The Most Controversial Woman in School Reform - New York Mag - I'm biased because I helped with this--Vanessa sent me to interview Howard Fuller (last paragraph) when she had the flu. I, being me, caught an emergency cab, sweated through traffic for 30 minutes, and made it to Harlem with .03 seconds to spare. But it's a great and informative story.

People Can't Stop Reading Image Comics - Vox.com - COMIX! YEAH! But seriously I love Image and you should, too.

Why Embracing Turtlenecks Could Make You Happier - The Fader - Not just because they're comfy af. There's actual psychology behind this, people.

---

Bonus! Bonus Jonas!

A website that helps you avoid people. A website called Procatinator (Just click on it). A website that gives you free writing ideas. And, for the creatively inclined, Guernica is calling for submissions! So go write for them.

---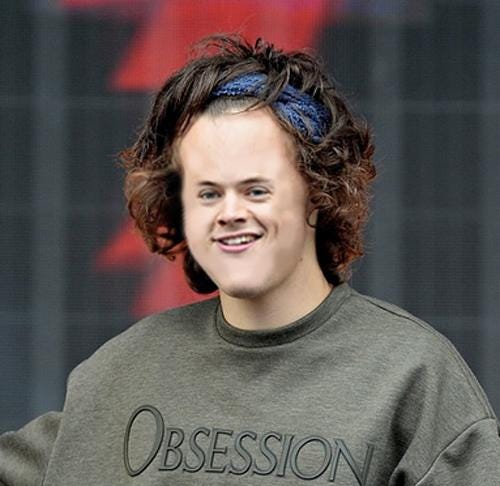 This month, let tiny-face Harry Styles be your guide. See you in February!

---
This newsletter was crafted with love while gazing out a large window at a bleak New York January sky.
Tell your friends and loved ones to subscribe
here
.
Visit my website at
clairelandsbaum.com
Tweet me at
@landsbaumshell